Faculty Members AISAWA Sumio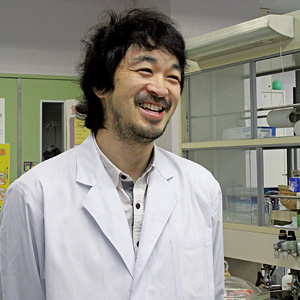 AISAWA Sumio
Associate Professor
Chemistry

[Master's Program] Chemistry

[Doctoral Program] Fundamental and Applied Sciences
Degrees Obtained
Doctorate (Engineering) Field of degree: Chemistry
Fields of Research
Inorganic Industrial Chemistry
Inorganic Materials Chemistry
Environmental Materials Chemistry
Clay Science
Profile
January 2001: Withdrew from Doctoral Program of Substances Engineering, Graduate School of Engineering, Iwate University
February 2001: Assistant Professor, Department of Chemical Engineering, Faculty of Engineering, Iwate University
Research Themes
The synthesis and application of new nanocomposites based on inorganic, layered composites
In recent years, inorganic nanomaterials have been investigated in the fields of chemical, biological, and drug delivery. I investigate the synthesis and application of inorganic and organic nanocomposite materials that are life- and eco-friendly. I have also recently been studied biomolecules and drugs intercalated layered materials to be available applications for molecular containers, biomolecular carriers and drug delivery materials.
Layered double hydroxide (LDH) is well-known as hydrotalcite-like compound and inorganic nanomaterial. LDH has been considerable attention in recent years, owing to its potential technological properties such as materials for drug and gene delivery. The cellular uptake mechanism of LDH has also been investigated; however, the details of intracellular behavior and fate of LDH after internalization into cells have not clarified. In my research, to investigate cellular uptake behavior and intracellular traffic of LDH, a fluorescent LDH would be required to visualize and define in cell; therefore, I investigate the intercalation of fluorescent dye into LDH. I also study the synthesis of the anticancer drug/LDH in order to promote the cellular uptake of 5-FU.
Teaching Philosophy
My teaching philosophy is students will development of human resources with a high level of problem solving abilities using own reserch results and knowledge variety of perspectives, including chemistry, pharmacology, biology, and medicine.