Faculty Members HAGIHARA Yoshihiro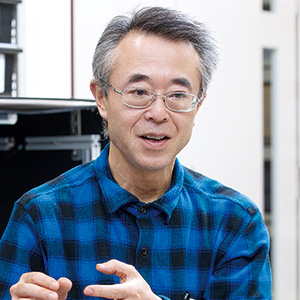 HAGIHARA Yoshihiro
Professor
Computer, Intelligence and Media Technology

[Master's Program] Computer Science and Intelligent Systems

[Doctoral Program] Systems Innovation Engineering
Degrees Obtained
Doctorate (Engineering) Field of Degree: Information Engineering
Fields of Research
Pattern Recognition and Information Processing
Robotics
3D Computer Graphics
Profile
March 1988: Graduated from Electrical and Electronic Engineering and Information and Computer Sciences at Faculty of Engineering, Tokyo University of Agriculture and Technology
March 1990: Graduated from Electrical Engineering Master's Program, Institute of Engineering, Tokyo University of Agriculture and Technology Graduate School
March 1996: Graduated from Electrical and Information Engineering Doctoral Program, Institute of Engineering, Tokyo University of Agriculture and Technology Graduate School
April 1993 - December 1996: Hitachi, Ltd. (System Development Research Institute)
January 1997 - October 2002: Assistant, Electrical and Electronic Engineering, Faculty of Engineering, The Graduate School of Bio-Applications, Tokyo University of Agriculture and Technology
October 2002 - September 2003: Assistant Professor, Mechanical Engineering, Faculty of Engineering, Iwate University
October 2003 - November 2014: Assistant Professor/Associate Professor, Mechanical Engineering, Mechanical Engineering Department, Faculty of Engineering, Iwate University
December 2014 - March 2016: Professor, Electrical Engineering and Computer Science, Faculty of Engineering, Iwate University
April 2016 - present: Professor, Computer, Intelligence and Media Technology, Department of Systems Innovation Engineering, Faculty of Science and Engineering, Iwate University
(April 1990 - March 1993: Full-time Lecturer, Tokyo Medical Secretarial College)
(April 1990 - March 1993: Part-time Lecturer, Organization for Small & Medium Enterprises University)
Research Themes
Cutting-edge research into brain and visual measurement, recognition and understanding and their controls
The robots and computers of the future will need the abilities to understand their surroundings, discover knowledge, think logically and form images to fill in information. Besides aiming to make these abilities reality, we are developing robots and software that are useful in CG-creation software and 3D games, are applied in robot controls and help communities by giving them the ability to make decisions corresponding to highly-trained technicians with expert knowledge and skills, including doctors.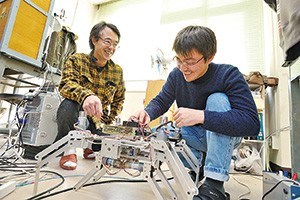 Teaching Philosophy
"I figure things out. You do the same."
While preparing lessons and materials, while figuring things out, I always think about how learning can be fun for more people, how the students can be interested, how they can act courageously, how they can keep going without worrying and whether what they learn will be useful to the community. Of course, everyone is different, so please figure out your own best ways of doing things. I hope I will be able to help you a little bit with that.