Faculty Members MIYOSHI Tasuku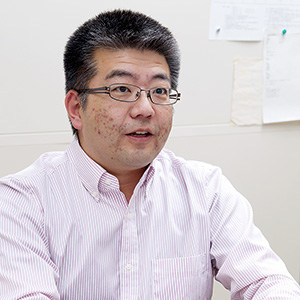 MIYOSHI Tasuku
Professor
Mechanical Science and Engineering

[Master's Program] Mechanical and Aerospace Engineering

[Doctoral Program] Systems Innovation Engineering
Degrees Obtained
Doctorate (Science) Field of Degree: Interdisciplinary
Fields of Research
Robotics
Bio-mimetics
Fisheries Robotics
Profile
March 2002: Machinery and Control Systems, Graduate School of Engineering, Shibaura Institute of Technology (Coursework completed without degree)
April 1, 2002 - March 31, 2005: Flow Researcher, (Current name) Research Institute, National Rehabilitation Center for Persons with Disabilities
April 1, 2005 - March 31, 2007: Research Resident, Japan Foundation for Aging and Health
April 1, 2007 - September 30, 2008: Post-doctoral Researcher, Shibaura Institute of Technology Graduate Schoo
October 1, 2008 - March 31, 2009: Associate Professor, Department of Welfare Engineering, Faculty of Engineering, Iwate University
April 1, 2009 - March 31, 2016: Associate Professor, Mechanical Engineering, Faculty of Engineering, Iwate University (Due to reorganization of the Faculty)
April 1, 2016 - March 31, 2020: Associate Professor, Mechanical Science, Faculty of Science and Engineering, Iwate University (Due to reorganization of the Faculty)
April 1, 2020 - present: Professor, Mechanical Science, Faculty of Science and Engineering, Iwate University (Due to reorganization of the Faculty)
Research Themes
Development of underwater robots for the examination and management of marine and fishery resources
Advanced engineering brings together the examination and the management of marine and aquatic resources. It is not possible for humans to conduct examinations in the sea or underwater. In order to make the impossible possible, we are working to give them movement similar to that of marine and aquatic creatures, particularly through the research into and development of biomimetic robots that mimic the biological characteristics of motor functions. We are also tackling research and development into robot hands that can manipulate flexible objects such as marine products and items processed by fisheries.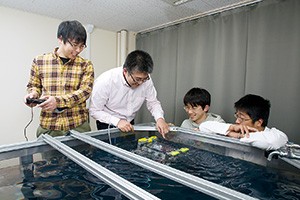 Teaching Philosophy
Make difficult things easy, easy things profound, profound things fun…that means research is fun!
I have played with the words of the playwright INOUE Hisashi to describe research, and I really do want research activities to be that way.