Department of Systems Innovation Engineering
Department Overview
Engineering mainly consists of electricity, communications, information, machinery, civil infrastructure, and the environment. And there is a demand for the optimization of their functions as a system by coordinating and integrating their respective functions with each other. Therefore, multi-disciplinary education and research are required. Rapid development is expected on robots, automobiles, and aerospace in the future. And smart forms would be considered in the disaster prevention and disaster management systems that are linked to our safety and security. Consequently, learning across the boundaries of the basics of each engineering field is more and more important. The Department of Systems Innovation Engineering is composed of four courses—"electrical, electronic and communication engineering", "computer, intelligence and media technology", "mechanical science and engineering" and "civil and environmental engineering". We strive to enhance specialization and field integration through education and research in order to cultivate specialized knowledge and application and development skills of a broad range of engineering fields.
Organization Chart of the Department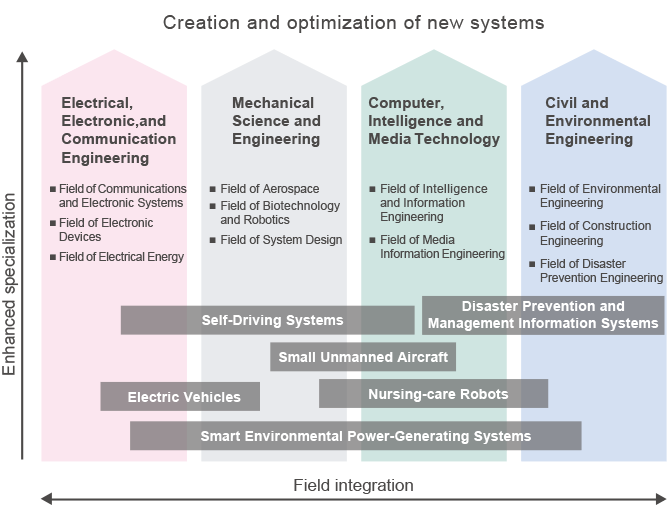 Goal of our education
Graduates who can create new value by utilizing the knowledge of natural science.
Graduates who are able to systematically connect each engineering field to solve the various, complex and large-scale problems faced with society
Graduates with a broad and deep understanding of electric, electronic and communications technology through hands-on manufacturing experience.
Graduates who are equipped with the basic knowledge to develop new electrical equipment and systems to contribute to the prosperity of human community in the 21st century.
Graduates who have the basic concepts and knowledge of "intelligence and information engineering" and "media information engineering".
Graduates who have the technical skills and teamwork ability in order to carry out practical manufacturing in collaborating with others.
Graduates who can contribute to research, development, and design in the field of mechanical engineering which demands a high level of expertise as well as integrated ideas
Graduates who have the basic ideas and knowledge of civil infrastructure and environmental engineering.
Graduates who have the ability to carry out the development, research and offer policies regarding the civil infrastructure which is inevitable for a safe, secure and eco-friendly community.